Helping mid-sized Tech businesses thrive
ThinCats seeks to support mid-sized businesses across all sectors with their funding needs. Being sector agnostic means we can look at each prospective borrower on its own merits rather than pre-judging it based on the sector in which it operates. However, as we start to fund more businesses in a particular sector, our expertise builds, enabling us to better understand the dynamics of that sector so that we can create funding solutions that best match borrowers' needs.
One such sector is the Technology sector where we are funding an increasing number and variety of transactions. We recently analysed the sector to understand how we could support more businesses with their growth ambitions.
The research identified three broad Technology categories; Hardware, Software and Services, which could be further broken to different sub-sectors as shown below: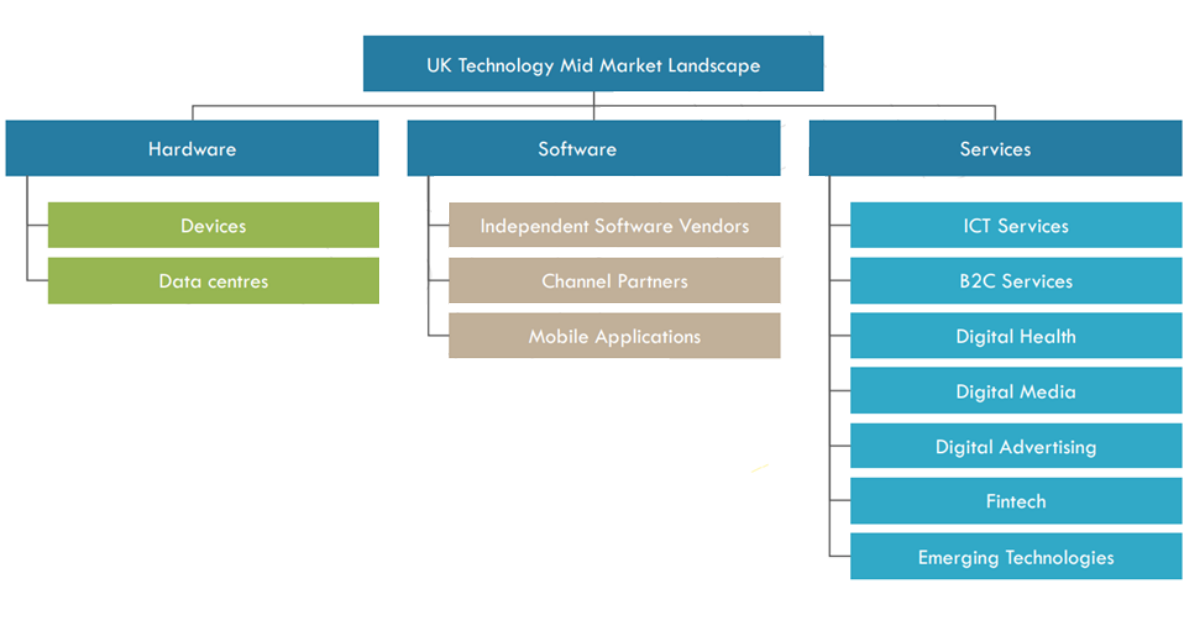 Of the three broad categories, the analysis showed that Software businesses scored highest in terms of high growth rate, quality of earnings and margin profile. In terms of the sub-sectors, we believe our funding proposition is well matched to support Independent Software Vendors, Software Channel Partners and ICT Services in particular. This is due to the flexibility of our funding solutions, the requirement for predominantly cashflow lends in which we specialise, and our strong relationships with lower-mid market private equity investors who often need trusted funding partners to support their buy and build strategies in this space.
The research also showed that while private equity investors believe that there is sufficient debt funding available for their needs, sponsorless companies, which are often smaller in size, find it more difficult to obtain debt. Sponsorless companies were also much more likely to use a specialist debt advisor to help with their search compared to sponsors, many of whom already have direct relationships with debt funders.
IT Managed Services sub-sector
The analysis included forecast growth rates for some of the key sub-sectors. For example, the IT Managed Services sub-sector is expected to grow from £13.1 bn in 2021 to £19.7bn by 2026 representing a compound annual growth rate of 8.5%. The forecast growth is driven by the need for many mid-sized SMEs to continue to digitise their businesses, which has been accelerated by the impact of the covid pandemic.
Mid-sized businesses prefer a "one-stop shop" solution provided by a local IT Managed Services provider that can provide boots on the ground. While IT service-desk outsourced solutions may be commoditising, future growth is predicted to come from cloud, data and cyber security services.
From a lending perspective the recurring, contracted income enjoyed by IT Managed Services companies along with the potential to increase revenue through additional implementation projects, make them attractive businesses to support either through organic growth or if pursuing a regional buy and build strategy.


| | | | | |
| --- | --- | --- | --- | --- |
| Company | Windsor Telecom | Network ROI | Secure Retail | Global 4 Communications |
| Technology sector | Comms Managed Services | IT Managed Services | Payments software & hardware | Comms Managed Services |
| Region | London & South East | Scotland | East Midlands | West Sussex |
| Funding Purpose | Acquisition | EOT | Refinance | Acquisition |
| Link to case study | Case study | Case study | Case study | Case study |